The itinerary of 12 Days and 11 Nights North India Temple Tour will take you through the ancient temples of North India in 12 days. North India Temple tour is also known as Char Dham ("four abodes") four Hindu pilgrimage circuits in Uttarakhand and "world-class temple destination" for its huge collection of temples. Exquisitely designed temples have unique stones or wooden carved figures. The intricate architecture and idols hold religious importance. These are sources of religious teachings, Yoga Meditation, culture and divine powers. These glorious temples are frequented by tourists from all over the world to perform Poojas or rituals. Take on this divine journey in the fascinating destinations of North India.

The great Hindu philosopher and reformer Adi Shankaracharya initiated the Char Dham yatra in an attempt to revive the Hindu religion during the 8th century. The word 'Char Dham' refers to the four abodes of God, namely Badrinath, Kedarnath, Gangotri and Yamunotri at the Himalayan region of Garhwal (Uttarakhand). All these locations are believed to be highly sacred by the Hindu religion. While Kedarnath is home to lord Shiva and Badrinath is home to Lord Vishnu. Yamunotri represent goddess of Shakti Yamuna, and Gangotri represent goddess of Shakti Ganga.
---
Destination: Delhi - Haridwar – Jankichatti – Yamunotri – Uttarkashi – Gangnani – Harsil – Gangotri – Rudrapryag – Guptkashi – Gaurikund – Kedarnath – Ukhimath – Chopta – Joshimath – Badrinath - Karnaprayag - Nandaprayag - Vishnuprayag – Devprayag – Rishikesh

Highlights of Tour:
Visit Chardham Yamunotri, Gangotri, Kedarnath, Badrinath Temples in North India
Visit Panch Prayag
Visit Haridwra and Rishikesh two holy cities
Explore north Indian Culture and heritage sites
Visit beautiful hill stations
Walking through dense forest and villages
Visit Ancient temple and places
---
TOUR ITINERARY
---
DAY 01: DELHI – HARIDWAR (210 KMS / 7 HRS)

After a late breakfast drive from Delhi to Haridwar. Haridwar is the well-known religious place for Hindus, where the holy river Ganges leaves the Himalayan mountains and flows into the plain. In the afternoon we walk along the Ghats (bath steps). Here are numerous ashrams and temples. In the evening we experience the prayer ceremony (Aarti).

DAY 02: HARIDWAR - JANKICHATTI (238 KMS/ 10 HRS)
Morning after breakfast drive to Jankichatti for journey to the first Dham, Yamunotri, daughter of the Sun god Surya and consciousness Sangya. The Yamuna, like the Ganges, has been elevated to the status of a divine mother for the Hindus and has been held responsible for nurturing and developing the Indian civilization. Have lunch in-route at mid way Lakhamandal. Another journey breaks before Barkot to continue our final overnight destination Jankichatti for overnight stay.

Jankichatti - Situated at an elevation of 2,650 mts above sea level, Jankichatti is primarily last motor able road head for pilgrims heading to Yamunotri. Jankichatti is surrounded by mountains on all sides and lies in close proximity of the Indo-China border. Previously the starting point of the trek to reach Yamunotri was Hanumanchatti. Since there is large devotee rush, it is advised to do night stay at Jankichatti to be among the first batch of pilgrims on this trekking route. Kharsali, the winter abode of Devi Yamuna and Sani Temple is on easy access from here. Besides Pilgrimage, there are numerous trekking options such as Darwa Top & Dodi Tal from Hanumanchatti, 7 kms from here. / Ponies and palanquins are available at Jankichatti.

DAY 03: JANKICHATTI – YAMUNOTRI – JANKICHATTI (10 KMS TREK TWO WAYS / 06 HRS)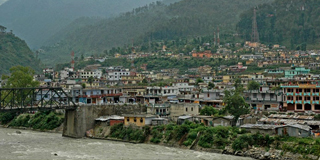 Early morning Wakeup call and leave with packed breakfast for trek to Yamunotri, your first of Himalayan Chardham. Return in time for Lunch at Jankichatti. Evening visit sightseeing tours of Jankichatti followed by Dinner. Overnight stay at Jankichatti.

Expenses Approximate - Jankichatti/ Yamunotri - Horse Rs.2000 & Doli Rs.8200

* These are only approximate cost based on earlier season. Actual rate may vary.

Day's Engagement - Yamunotri, First of The Chardham: The chief attraction at Yamunotri is the temple devoted to the Goddess Yamuna. The temple of Yamuna, on the left bank of the Yamuna, was constructed by Maharaja Pratap Shah of Tehri Garhwal. The deity is made of black marble. Yamunotri was the home of an ancient sage Asit Muni.

Yamuna is the daughter of the Sun just like Yama who is considered his son. It is believed that Yama would not torment any person at the time of death who bathes in Yamuna, his sister. It is Yamuna, who being a holder of infinite love and compassion can grant us freedom from even death, in the realm of her elder brother.

DAY 04: JANKICHATTI – UTTARKASHI (150 KMS /06 HRS)
Post leisurely wakeup call and breakfast, leave for Uttarkashi, literally meaning Banaras/ Kashi of north. En route Journey breaks at Brahamkhal and Dharasu band. Later reach Uttarkashi in time for Lunch. Early Dinner & Overnight stay at Uttarkashi.

Uttarkashi - Uttarkashi is a small and beautiful town, situated between two rivers: Varuna and Ashi, whose water flow into the Bhagirathi from either side of the town. Elevated, at a height of 1588 meters, this little town is very similar to Kashi and Varanasi, in that it has the same kind of temples and ghats and likewise, a north or 'Uttar' facing river. The major temple in Uttarkashi is The Vishwanath Temple, dedicated to Lord Shiva. Two other very important temples are located in the Chowk area are the Annapurna Temple and the Bhairav Temple. Once it is said, there were 365 temples here. Hiuen Tsang referred to this place as Brahma Pura, while the Skanda Puran has recorded it as Varunavata. It is believed that in the second millennium of Kaliyug Kashi will be submerged, and Uttarkashi will replace it as an important religious centre.

DAY 05: UTTARKASHI - GANGOTRI – UTTARKASHI (100 KMS ONE SIDE / 4 HRS)
Early morning wakeup call and after light breakfast proceed for Gangotri. Enroute journey break at Ganganani, have bath in hot water spring, later continue for Gangotri temple. Post Puja, lunch at Gangotri. Later leave for Uttarkashi. Dinner & overnight say at Uttarkashi.

Day's Engagement - Gangotri, IInd of Chardham: Gangotri, the origin of the River Ganges and seat of the goddess Ganga, is one of the four sites in the Char Dham pilgrimage circuit. The river is called Bhagirathi at the source and acquires the name Ganga (Ganges) from Devaprayag onwards where it meets the Alaknanda. The origin of the holy river is at Goumukh, set in the Gangotri Glacier, and is a 18 km trek from Gangotri.

This small town is centered around the temple of goddess Ganga, which was built by the Nepalese General, Amar Singh Thapa in the early 18th century. The temple is closed on Diwali day every year and is reopened in April/ May. According to Hindu mythology, Goddess Ganga took the form of a river to absolve the sins of King Bhagirathi's predecessors, following his severe penance of several centuries.

No other river is wound as closely with the warp and weft of Hinduism as the Ganga in India. Venerated since time immemorial as spiritual purifier and the giver of health and prosperity, it is part of the country's social and religious fabric. The irresistible attraction of these sacred waters, enhanced by the myths and legends woven around the river and its origins, has drawn ascetics and adventurers alike since mythical times. Gangotri, the temple dedicated to the Goddess Ganga near the source of the river and one of the Chardham of Uttarakhand is among the most sanctifying experiences of a Hindu's life; and as uplifting and inspiring for the traveler. Million of pilgrims and travelers have undertaken the yatra to Gangotri for centuries in search of salvation and the sacred river has provided those scours and hope.

DAY 06: UTTARKASHI – GUPTKASHI (212 KMS / 10 HRS)
After a very early breakfast leave for the longest journey of the trip on the road. Late Lunch en route. On the way see the heritage city of Tehri going down in to the mighty waters of Holy River Ganges, because of the construction of Tehri Dam. After lunch restart your journey and today for the first time see the river beautiful MANDAKINI. Travel along this to reach Guptkashi late in the evening. Diner and Overnight at hotel.

DAY 07: GUPTKASHI - PHATA- KEDARNATH – RUDRAPRYAG (DRIVE + FLIGHT)
Morning drive to Phata take helicopter flight to Kedarnath ji, do priority darshan here, and fly back to Phata and drive to Rudrapryag. Overnight stay at Rudrapryag.

Day's Engagement - Kedarnath Temple, IIIrd of Chardham: Kedarnath, the remotest and the most magnificent of the Chardham, is located in Lord Shiva's own country. The sheer majesty of the shrine's natural setting - the towering mountains mantled in snow, the tumbling streams and rivers, and green meadows and forests -- and the arduous trek that gets you to it, serve to further cement the deep-rooted faith that this temple inspires in the devout. This is one sacred site that has remained almost unchanged for centuries and has a spiritual energy all its own. For the devotee of Lord Shiva, this is the last frontier, the ultimate path to salvation.

Kedarnath - Flight Rs.9000/-* extra cost

* These are only approximate cost based on earlier season. Actual rate may vary.

DAY 08: RUDRAPRAYAG - BADRINATH (165KMS/7HR)
After breakfast drive to Badrinath via Joshimath. Up arrive Check in Hotel. Later at evening visit Badrinath Temple for Aarti. Dinner & overnight stay will be hotel at Badrinath.

Day's Engagement- Badrinath - Badrinath and its route is, for the newcomer, a journey of initiation. For those who are visiting the shrine, the landmarks and vistas forever provide a newer view, a different emotion, a further nuance to an experience in memory. The journey to Badrinath can sometimes be unforgiving, but only to a closed mind. The people visiting the shrine are but the faces of the country. Journey from Rishikesh to Badrinath, to borrow from one of Sir Edmund Hillary's expeditions, is in many ways, a journey from the ocean to the sky, as much mental as physical and another route to heaven - and spiritual liberation.

DAY 09: BADRINATH – JOSHIMATH (44 KMS / 3 HR)
Early morning, pilgrims after having a bath in the Taptkund have the Darshan of Badrivishal. Brahamakamal is significant for Pinddan Shraddh of ancestors (Pitrus). There are other interesting sight seeing spot like Mana, Vyas Gufa, Maatamoorti, Charanpaduka, Bhimkund and the "Mukh" of the Saraswati River. Just within the three kms of Badrinathjee. Later drive back to Joshimath. Check in Hotel. Overnight will be hotel at Joshimath.

DAY 10: JOSHIMATH – RISHIKESH (244 / 9 HRS)
Morning drive to Rishikesh. It is an approx 244 Kms / 9 hrs journey. Enjoy en-route lunch. On arrival at Rishikesh check-in at hotel. evening visit and enjoy the enchanting view of Ganga Aarti. Overnight Stay at Rishikesh.

Rishikesh is a small city in the state Uttarakhand of northern India and enjoys a global fame as the world's capital of Yoga and Meditation. Situated at the banks of River Ganges, the city is also a gateway to the mighty Himalayas and is in possession of massive natural beauty and majesty. There are a large number of temples in this famous spiritual town. There is a legend lined with the name of the town that states that when Rishi Raibhya did penance, God appeared before him in the form of Rishikesh (God of Senses) and hence the place got its name.

DAY 11: SIGHTSEEING IN RISHIKESH
In the morning around 09:00 Am we will begin exploring Rishikesh, also known as the world capital of Yoga. First we will visit Divine Life Society - Sivananda Ashram, Triveni Ghat, and the sacred Bharat Mandir a famous temple situated in old Rishikesh. According to legends, Rishikesh came into existence with this temple only in about 789AD. After 11 am we will visit Lakshman Jhula Bridge and then walk towards Ram Jhula bridge both popular attractions of Rishikesh. In Ram Jhula we will we will have food experience at Chotiwala restaurant one of Rishikesh Oldest Restaurants situated on the banks of River Ganges from the last 60 years. After lunch we will continue to walk towards Swarg Ashram, Geeta Bhawan, the Beatles Ashram - home of Transcendental Meditation, then Parmarth Niketan Ashram, a true spiritual haven lying on the holy banks of Mother Ganga and the largest ashram in Rishikesh. We will complete the day viewing the sunset while participating in an Aarti ceremony on the bank of Ganga River. Later walk back to the hotel and overnight stay in Rishikesh.

DAY 12: RISHIKESH – DELHI (230 / 7 HRS)
After Breakfast drive back to Delhi.
---
Our Contribution:

We have expertise in offering the vacationers the best possible tour packages at market leading prices. Moreover, we also pay attention on the amenities and assistance provided by us during the entire tour to assure a safe as well as memorable holiday experience.

We offer the widest choice of accommodation (including resorts, hotels, houseboats, Luxury Mobile Camps, home stays) in India. This means we have been very successful in matching customers' requirements (both interests and budget) to create the perfect holiday. We are able to make recommendations based on personal experience and feedback from recent clients to ensure we find the right hotel for our client requirements and budget.

The best way to see India is by road and our fleet of modern, well maintained vehicles will facilitate you in this regard. With our latest vehicles driven by experienced drivers, we ensure our clients take home wonderful memories from their tour.

Our communication systems are used extensively to impart flawless service to our clients. Our team is available online in SKYPE, other social media network & are accessible over mobile phone around the clock for assistance. Excellent infrastructure that we created over all these years' serves as a boon to all clients as they are given 24 hours' personal care & assistance.
---
All our independent itineraries are completely flexible and can be customised to your requirements.
If you would like more information please feel free to contact us: bhagirathitour@hotmail.com OR call: 0091 – 9719016952