16 days and 15 nights tour of South India which combining two states of south India such as Tamil Nadu and Kerala. Experience south India tour from Chennai the capital of Tamil Nadu, Mahabalipuram, Kanchipuram, Pondicherry, Chidambaram, Kumbakonam via Gangaikonda Cholapuram, Thanjavur, Kumbakonam, Chettinad, Madurai, Rameswaram, Kerala Periyar, Munnar, Alleppey, and Cochin.
---
TOUR ITINERARY
---
DAY 01: ARRIVE IN CHENNAI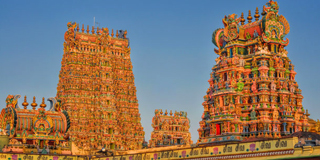 Upon arrival at the Chennai airport/Railway station, you will be welcome by Bhagirathi Tour & Travel representative after transfer to the hotel. Day at leisure. Chennai – developed in 1639 by East India Company, is one of the oldest cities of the country. It is the gateway and the largest city in southern India located on the Coromandel Coast of the Bay of Bengal. Chennai is the Musical and Cultural Capital of India, known for its classical dance shows and spiritual centers, and it offers a lot of things to visitors – whether it's shopping, sightseeing, dining, or experiencing the rich culture of South India. (Overnight stay in hotel at Chennai)

DAY 02: SIGHTSEEING IN CHENNAI – MAHABALIPURAM drive 90 minutes
After breakfast, walking tour through the most beautiful heritage and culture sites such as St. George fort, Sri Parthasarathy Temple, Kapaleeshwar Temple, and Adeeswar Temple. After sightseeing tour of Chennai then drive 90 minutes or so down the coast to Mahabalipuram. Overnight in Mahabalipuram.

DAY 03: KANCHIPURAM EXCURSION
Day trip to the important temple and pilgrimage city of Kanchipuram with sightseeing and a visit to one of the many famous silk-weaving centres here. Time later in the day back in Mahabalipuram will give you an opportunity to wander around and see some of the many unique rock-cut carvings and temples here. Overnight in Mahabalipuram.

DAY 04: MAHABALIPURAM - PONDICHERRY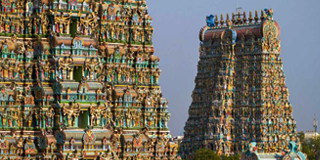 Depart Mahabalipuram and drive 2 hours or so down to Pondicherry, the former French colonial capital in South India. The centre of the town still retains a French atmosphere in its architecture and planning. Pondicherry can be explored most easily on foot and everything is relatively close together in a narrow strip along the beach. A traditional early evening activity is to join the throngs of locals who stroll along the beachfront promenade around sunset. Pondicherry is also home to great restaurants and some of the finest boutiques in South India. Overnight in Pondicherry.

DAY 05: PONDICHERRY - CHIDAMBARAM – GANGAKONDA CHOLAPURAM - KUMBAKONAM
Today you will enter the 'temple heartland' of Tamil Nadu with stops at Chidambaram, one of the main pilgrimage sites in India, a bustling temple, privately run and dedicated to the dancing Shiva, Nataraja, and later at Gangakonda Cholapuram which is one of the finest examples of Chola temple architecture. A somewhat remote spot now, the temple has been under UNESCO management since the early 2000s and is now surrounded by gardens and lawns. A very picturesque spot and a stunning temple. Continue on to reach your next stop late in the afternoon. Overnight in Kumbakonam.

DAY 06: TANJORE EXCURSION
Kumbakonam is home to many wonderful temples, and at nearby Darasuram there is another which is under UNESCO protection. You'll have a guide for the day to help you get the most out of your time around Kumbakonam and Tanjore. The biggest and most impressive of all the Chola-period temples is Brihadishwara in Tanjore which is over 1000 years old and is still a centre for both social interaction and worship for the local community. Overnight in Kumbakonam.

DAY 07: KUMBAKONAM – CHETTINAD
Drive 2 hours or so down into the Chettinad region. This area is famed for its vast and impressive mansions, built by the Chettiar merchant community from the late-19th to mid-20th centuries. The region retains a very traditional feel, and this combination of opulence and humility, with a range of excellent heritage accommodation options, makes this a singularly unique spot in which to spend some time. You can explore and foot around the many small towns and villages, visit local temples and cottage industries or shop for antiques in the district headquarters of Karaikudi. Overnight in Chettinad.

DAY 08: CHETTINAD- MADURAI
Depart Chettinad for the short drive down to Madurai. There are several important sights here- the Gandhi Museum is highly recommended- but nothing compares to Meenakshi temple for scale, spiritual importance and 'wow-factor'. Tour the main sights in the afternoon, then head out on our very own 'food safari' in the early evening to sample some of Madurai's best street food and local restaurants. This is a great chance to learn about Tamil cuisine and enjoy some of the unique dishes with local experts. Overnight in Madurai.

DAY 09: MADURAI – RAMESHWARAM – MADURAI EXCURSION
After an early morning breakfast, we will drive to the Rameshwaram. On arrival and visiting the Ramanathaswamy Temple, dedicated to Lord Rama. This is one of the seven places in India where pilgrims pray for salvation. The place is unique with 22 holy springs and the longest corridor in India. Our next visit is to the five faced Hanuman Temple. The temple also has a floating stone outside the temple exhibiting the famous stories from the Great Indian spic, Ramayana. After sightseeing drive back to Madurai for overnight stay.

DAY 10: MADURAI - PERIYAR
An early start this morning for Madurai walking tour, which is a great way to see the city as it's waking up in the time around dawn. You'll met locals, have traditions explained and experience the city in a way which is just not possible when traffic is everywhere. Depart Madurai after breakfast and drive 4 hours up into the hills to the town of Thekkady, on the fringes of Periyar Wildlife Sanctuary. Afternoon options include a forest hike or an informative walk around a spice plantation. Overnight in Periyar.

DAY 11: PERIYAR - MUNNAR
Take an early morning boat ride on Periyar Lake, and later drive to Munnar. While Thekkady is largely surrounded by thick forest, Munnar has much more open country around it, with tea plantations carpeting the hills and creating spectacular vistas. Check in to your accommodation on arrival and relax, with options for walking all around if you wish to take in the clean mountain air. Overnight in Munnar.

DAY 12: MUNNAR
There are plenty of options for your full day in Munnar with everything from a visit to the tea museum to hiking, a trip to the Eravikulam National Park to see the rare Nilgiri Tahr, or just a leisurely scenic drive are all among the possibilities. Overnight in Munnar.

DAY 13: MUNNAR - ALLEPPEY
Leisurely morning in around Munnar before departing for the 3-4 hour drive down the hills to Alleppey. This is the heart of the famous Kerala backwaters and (somewhat fancifully perhaps) dubbed the Venice of the East. Regardless of titles, the region around Alleppey is truly unique and the lifestyle of the people here is both bucolic and quite traditional. During your time around Alleppey you can explore on foot, by bicycle or on a variety of waterborne craft, to visit ancient temples, churches, paddy fields, and village. Watch toddy tapping (gathering of palm spirit from coconut trees), traditional fishing, duck-herding (really!) and just watch the world go by. Overnight near Alleppey.

DAY 14: ALLEPPEY
Continue to engage with the local lifestyle, and if you wish visit one of the nearby beaches or take a heritage walk in Alleppey. Overnight near Alleppey.

DAY 15: ALLEPPEY - COCHIN
Head towards Cochin mid-morning- the drive takes around 2 hours. After lunch, head out on a sightseeing tour around historic Fort Cochin taking in the synagogue, Dutch Palace, St. Francis Church, Santa Cruz Basilica, and the Chinese fishing nets. In the evening you can opt to watch a theatrical performance of Kathakali dance, a traditional Keralan art form, or head out into the markets for some last-minute shopping. Overnight in Fort Cochin.

DAY 16: COCHIN- DEPART
Transfer to Cochin airport and head to your next destination or depart for home.
---
Our Contribution:

We have expertise in offering the vacationers the best possible tour packages at market leading prices. Moreover, we also pay attention on the amenities and assistance provided by us during the entire tour to assure a safe as well as memorable holiday experience.

We offer the widest choice of accommodation (including resorts, hotels, houseboats, Luxury Mobile Camps, home stays) in India. This means we have been very successful in matching customers' requirements (both interests and budget) to create the perfect holiday. We are able to make recommendations based on personal experience and feedback from recent clients to ensure we find the right hotel for our client requirements and budget.

The best way to see India is by road and our fleet of modern, well maintained vehicles will facilitate you in this regard. With our latest vehicles driven by experienced drivers, we ensure our clients take home wonderful memories from their tour.

Our communication systems are used extensively to impart flawless service to our clients. Our team is available online in SKYPE, other social media network & are accessible over mobile phone around the clock for assistance. Excellent infrastructure that we created over all these years' serves as a boon to all clients as they are given 24 hours' personal care & assistance.
---
All our independent itineraries are completely flexible and can be customised to your requirements.
If you would like more information please feel free to contact us: bhagirathitour@hotmail.com OR call: 0091 – 9719016952