We are one the best Yoga and Wellness retreat organizers in South India since 2008. As a Yoga and Wellness retreat organizers in South India we aim to offer our clients world-class service, maintaining consistent quality with a personal touch. We believe in hard work, passion, and commitment and that's how we have been able to serve our clients over the years. During your Yoga and Wellness retreat in South India you will explore world heritage sites, unique cultures, visit ancient temples, hill stations, tea garden, beaches, and experience backwaters in Kerala.

We have helped already many travel agencies, Yoga teachers, group leaders, and visitors to organize their amazing retreat programs in North India: yoga, meditation, detox, healthy lifestyle, spirituality, coaching, Panchakarma, Ayurvedic Retreat, wellness oriented corporate convention or event, etcfor individuals and groups.

22 Days Classical South India retreatdestination:Chennai, Mahabalipuram, Kanchipuram, Trichy, Madurai, Periyar, Alleppey, Cochin, Wayanad, Mysore, Hassan, Hospet, Badami, Goa and Mumbai
---
DETAILS & ITINERARY
---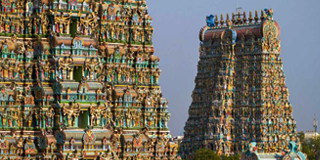 Day 1: Chennai Arrival
On arrival in Chennai you'll be met and introduced to your driver. Depart immediately and drive 90 minutes south to the beach side town of Mahabalipuram. Overnight in Mahabalipuram.

Day 2: Mahabalipuram
Your first full day in India will be relatively low-key with a half - day sightseeing tour of the ancient monuments of Mahabalipuram in the afternoon, after a morning spent acclimatizing and perhaps strolling on the beach. Overnight in Mahabalipuram

Day 3 : Mahabalipuram – Kanchipuram – Mahabalipuram
Day excursion to the temple town of Kanchipuram, one of the most sacred pilgrimage sites in southern India. On the way back to Mahabalipuram you can opt to visit the Cultural village at Dakshinachitra. Overnight in Mahabalipuram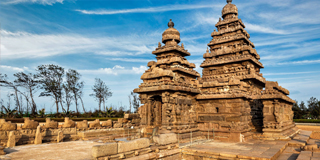 Day 4 : Mahabalipuram – Trichy
The next stop is at Trichy, another of Tamil Nadu's important Temple Cities and home to Srirangam and Rock Fort Temples. The climb to the top of Rock Fort is rewarded with views over the city and Srirangam temple, one of the largest in Asia. Rock Fort Bazaar is a very interesting market, seething with people and a great place to buy almost anything. Overnight in Trichy

Day 5 : Trichy – Madurai
Leave Trichy after breakfast and drive 3 hours to Madurai. Later in the day visit Meenakshi Temple and the Nayak Palace, with free time in the late afternoon to explore the markets of Madurai, the second largest city in Tamil Nadu and one of its most fascinating. In the evening join our 'food safari' tour to sample some of Madurai's best local restaurants and finest street food, while learning a whole lot about Tamil cuisine. Overnight in Madurai.

Day 6 : Madurai – Periyar
Our Vanakkam Madurai walking tour (both this and the Food Safari were created by Leena in our Madurai office) is a great way to explore Madurai on foot- by 9am the streets are getting busy, but making a super-early start means you'll encounter far fewer people while being able to take the time to observe morning routines and customs. Return to your hotel and later drive 4 hours to Periyar, high in the hills of the Western Ghats. Options for the afternoon include guided trekking in the forests of the famous Periyar Wildlife Sanctuary, a visit to a spice plantation and .bamboo rafting. Overnight in Periyar.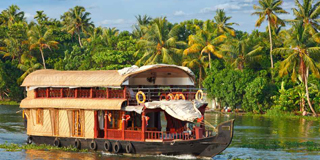 Day 7 : Periyar – Alleppey
Depart Periyar and drive down to Alleppey, board a houseboat here for a lunch cruise on the famous Kerala backwaters. At the end of the cruise you'll be dropped at your accommodation for the night, a homestay or resort alongside the backwaters. Overnight near Alleppey.

Day 8 : Alleppey – Cochin
Begin the day with a morning stroll or a paddled-canoe ride on some of the smaller channels and rivulets of the backwaters before transferring back to the mainland and driving 90 minutes north to Cochin. Afternoon sightseeing around historic Fort Cochin, a major trading port for centuries and home to a multitude of cultural influences. Overnight in Fort Cochin.

Day 9 : Cochin – Wayanad
Full day drive to Wayanad- a remote district in the north of Kerala - overnight in Wayanad.

Day 10 : Wayanad
A day in the Wayanad district where you can go trekking, visit a wildlife sanctuary by jeep or see some of the local attractions which include India's oldest Neolithic rock carvings and ancient Jain temples in the forests. Overnight in Wayanad.

Day 11 : Wayanad – Mysore
Morning drive down to Mysore and in the afternoon visit the famous flower market and sumptuous Mysore palace. If you happen to be in Mysore on a Sunday you can see the amazing sight of the nearly 100,000 lights of the palace being turned on. Overnight in Mysore.

Day 12 : Mysore – Hassan
Depart Mysore and drive to Hassan, en route visiting the giant Jain statue at Shravanabelagola. Later in the day you will be able to see two of the most intricate temples in south India - the Hoysala Dynasty structures at Belur and Halebid. Overnight in Hassan.

Day 13 : Hassan – Hospet
Full day drive to Hospet; settle in to your accommodation ahead of the next two Days at Hampi which is 12 km/ 20 minutes from Hospet.

Day 14 & 15 : Hospet
At least two full days are needed to do justice to this remarkable site - spend one day with a guide to get some background and understanding of the history of Hampi, and on the second day explore at your own pace. Overnight in Hospet.

Day 16 : Hospet – Badami
Drive via the temples and caves at Aihole and Pattadakal to Badami, overnight Badami.

Day 17 : Badami – Goa
Drive west to the coast and the world famous beaches of Goa, India's smallest state. Overnight in Goa.

Day 18 & 20 : Goa
Wind down with two days relaxing on the beach. If you are interested in the history of Goa, a full day tour is an option. Overnight in Goa.

Day 21: Goa – Mumbai
Morning flight to Mumbai, where you will be met on arrival and transferred to your hotel. In the afternoon, visit some of the many highlights of Mumbai including the Gateway of India, the Dhobi Ghats (probably the world's largest open-air laundry), the Hanging Gardens and historic colonial buildings of south Mumbai. Overnight in Mumbai.

Day 22: Mumbai Morning visit to the rock-cut temples at Elephanta Caves, on Elephanta Island in the middle of Mumbai Harbour. Later in the day transfer to Mumbai airport for your flight home.
---
All our independent itineraries are completely flexible and can be customised to your requirements.
If you would like more information please feel free to contact us: bhagirathitour@hotmail.com OR call: 0091 – 9719016952