Explore north India's magnificent forts and palaces, ancient temples, hills, and very diverse history. Classical north India group tour packages will take you through north India's most amazing cities such as Delhi the capital of India and famous for its World Heritage Sites. Agra The UNESCO World Heritage Sites like Taj Mahal and Agra Fort, train journey to Puskar a holy city of Rajasthan located on the bank of holy lake. Jaipur "Pink City of India', then flight to Varanasi India's most colourful and intense city, Sarnath where Gautama Buddha first taught the Dharma, and where Buddhist Sangha came into existence, afterword fight to the foothills of Himalayas McLeod Ganj Dharamshala is known as "Little Lhasa" or "Dhasa" because of its large population of Tibetans and it is also a home to the Dalai Lama, next Amritsar "Pool of Nectar" and It is the holiest Gurdwara and the most important pilgrimage site of Sikhism. Rishikesh Sacred city on the banks of river Ganges and it is known as the Yoga Capital of the World. Haridwar seven sacred cities of the Hindus where the Ganges river emerges from the Himalaya. Haridwar is also one of the four places; where Kumbh Mela occurs after rotation of every twelve years and next festival date from 14 January 2021 to 14 April 2021.

Fixed Departure Small Group Tour from 11 Mar to 30 Mar in 2021 / 2022/ 2023 with All-Inclusive at USD 3000 for further information click here

Tour Destination: Delhi – Agra – Puskar – Jaipur – Varanasi – Sarnath – Dharamshala – Amritsar – Rishikesh - Haridwar – Delhi
---
DETAILS & ITINERARY
---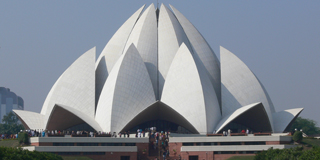 DAY 01: ARRIVE INDIA AT DELHI
Upon arrival at New Delhi International airport, our representative is present to welcome you and accompany you to the hotel. He will assist you to check-in at the hotel which is pre-booked for you. rest of the day will be spent at leisure followed by your overnight stay.

DAY 02: EXPLORE DELHI
After breakfast first, you will visit old Delhi with our local tour such as The Raj Ghat, & Jama Masjid are two important places to visit, you may also visit Chandni Chowk, spice market etc. Later on, proceed to visit New Delhi. The Qutub Minar, the tallest stone tower in India, imposing India Gate and the Rastrapathi Bhawan, Laxmi Narayan Temple, Lotus Temple. By evening return to the hotel.

DAY 03: DELHI - AGRA (APPROX. 220 KM – 5 HRS) EXPLORE AGRA
After breakfast, depart for Agra by road (220 km / 5hr). On your arrival in Agra check into the hotel of your choice. Afternoon sight-seeing tour of Agra visiting the Taj Mahal and the Red Fort. The visit to the Taj Mahal will long be remembered by you as the highlight of your classical North India tour. By evening return to the hotel.

DAY 04: AGRA - AJMER (By Train) - PUSHKAR (By Car) EXPLORE AGRA
After breakfast visits the local market at Agra and in the afternoon, we will transfer to Agra Railway station to board Train to Ajmer (Dept. Agra @ 2:50 PM & Arrive Ajmer @ 09:10 PM). Assistance on arrival at Ajmer railway Station and transfer to Hotel in Pushkar. Dinner and Overnight stay in Pushkar.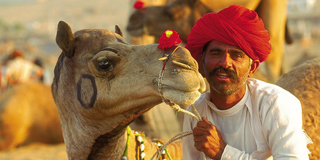 DAY 05: EXPLORE PUSHKAR
After breakfast, we will visit the famous Pushkar Lake that is believed to be the one and only worship place of Lord Brahma in the whole universe, Brahma Temple etc. and then Cattle fairground where the world-famous Pushkar Cattle Fair held every year. Then the rest of the day will be spent at leisure or you can visit the local market.

DAY 06: EXPLORE PUSHKAR:
After breakfast exploring Puskar by your own.

DAY 07: PUSHKAR - JAIPUR BY CAR (APPROX. 4 HRS. DRIVE) – VARANASI (By Afternoon Flight)
Early morning 4 hours' drive to Jaipur popularly known as the Pink City, built in 1727 AD by Maharaja Sawai Jai Singh II and visit Amer Fort is one of the most famous forts of Rajasthan, later transfer to Airport to board an Indigo Flight 6E- 913 (Dept. Jaipur @ 13:45 Hrs// Arrive Varanasi @ 15:15 Hrs). Meeting and assistance on arrival at Varanasi Airport and Transfer to Hotel and check-in. Overnight stay at Hotel in Varanasi.

Day 08: VARANASI – SARNATH – VARANASI
The day is started off on the banks of Ganga, savoring a magnificent view of the sunrise by boat. You get back to the hotel for breakfast after leading towards Sarnath with a local tour guide. Sarnath is where legendary emperor Ashoka spent good times of his life and built Dharmarajika Stupa and erected his symbolic pillars after sightseeing tour drive back to the hotel for rest and change. In the evening you leave to attend the majestic Arti on the banks of Ganges, After Aarti walking through a narrow street and colourful market of Varanasi.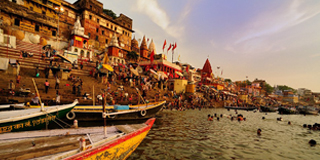 DAY 09: VARANASI - ARRIVE DELHI (By Morning Flight)
Today early morning transfer to Varanasi airport board an Indigo Flight 6E-629 (Dept. Varanasi @ 10:25 AM // Arrive Delhi @ 12:10 Hrs). Meeting and assistance on arrival at Delhi airport and transfer to Hotel and check-in time @ 12 NOON In the afternoon we will visit shopping.

DAY 10: DELHI - DHARAMSALA (by Early Morning Flight)
Today early morning transfer to Delhi airport board a Spice Jet Flight SG-2468 (Dept. Delhi @ 07:05 AM / Arrive Dharamshala @ 08:25 AM). Meeting and assistance on arrival at Dharamshala airport and Transfer to Hotel and check-in time @ 12 NOON

DAY 11: EXPLORE DHARAMSALA (MCLEODGANJ)
After breakfast walks in Mcleodganj town and visit places and monuments one can explore in this small town. You can enjoy a visit to the Dalai Lama Temple, Library of Tibetan Works, Church of St. John in the Wilderness, Dal Lake, Kangra Art Museum, Gyuto Monastery lovely restaurants and cafe etc. overnight stay in Mcleodganj.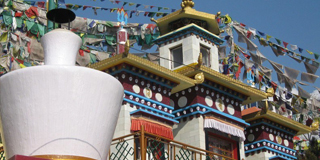 DAY 12: EXPLORE DHARAMSALA (MCLEODGANJ):
After breakfast exploring Dharamshala by your own.

DAY 13: EXPLORE DHARAMSALA (MCLEODGANJ):
After breakfast exploring Dharamshala by your own.

DAY 14: DHARAMSALA - AMRITSAR (190 KMS BY CAR – 6 HRS)
After breakfast drive to Amritsar literally the "Pool of Nectar", is named after the sacred pool in the Golden Temple, the holiest of Sikh sites. On arrival in Amritsar, check-in at the hotel. Refresh yourself at the hotel and take lunch. Later proceed to the Golden Temple, the holiest of Sikh sites. The Harmandir (Golden Temple) is the spiritual nerve centre of the Sikh faith. The Akal Takht is the seat of the Sikh's religious committee. Guru Gobind Singh's shrine is dedicated to the 10th and last guru of the Sikhs. You can explore and appreciate the spirituality of the place at your own pace. Besides its physical beauty, the strong and tranquil spiritual atmosphere is soul-stirring without being overwhelming. The constant recitation of the holy book brings a certain sense of peace to the individual. Walkthrough the temple complex and soak in the atmosphere. After temple walking through the local market. Dinner and overnight stay in Amritsar.


DAY 15: AMRITSAR - HARIDWAR (By Train) – RISHIKESH (By Car)
Early morning transfer to the railway station and board the train to Haridwar located at the foot of the Shivalik hills on the banks of the holy Ganga. Amritsar-Haridwar Jan Shatabdi Dep: 06:55 Hrs and Arr: 14:00 hrs. You are met on arrival at Haridwar railway station and transferred to Rishikesh located north of Haridwar on the right bank of the Ganga, surrounded on three sides by the Himalayan ranges. On arrival, check-in at Hotel. rest of the day will be spent at leisure followed by your overnight stay.

DAY 16: EXPLORE RISHIKESH
The day begins with an early morning yoga session. After breakfast, spend the day exploring Rishikesh "Yoga Capital of the World",. Legend has it that God revealed himself to Raibhaya Rishi as Hrishikesh, after long penance and this sacred spot was henceforth known as such. Rishikesh is the starting point of several pilgrimages to the holy shrines of Yamunotri, Gangotri, Kedarnath and Badrinath. A renowned centre of Yoga discipline and learning, Rishikesh is dotted with shrines and ashrams. Some 5 km away is the Lakshman Jhoola, suspension bridge. The Lakshman Temple, dedicated to the brother of Lord Ram, where he is believed to have performed penance, is nearby. Other interesting temples include the Parmarth temple with many images from Hindu Mythology. In the evening, witness the beautiful Aarti (religious ceremony) at Triveni Ghat, where three streams of the Ganga, Yamuna and Saraswati are believed to be flowing together underground. Prayers to goddess Ganga are invoked, followed by the lighting of butter lamps which are set afloat on the river. Triveni Ghat is also important as the sacred place where Pinda Shradha is performed, a ceremony where food is offered to the departed soul.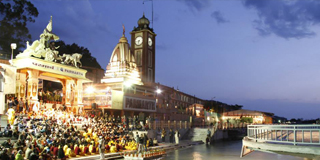 DAY 17: EXPLORE RISHIKESH:
After breakfast exploring Rishikesh by your own.

DAY 18: EXPLORE RISHIKESH:
After breakfast exploring Rishikesh by your own.

DAY 19: EXPLORE RISHIKESH:
After breakfast exploring Rishikesh by your own.

DAY 20: RISHIKESH - DELHI VIA HARIDWAR (BY CAR 230 KMS – 7 HRS)
Today after breakfast you will be transferred to New Delhi International Airport for your onward flight.
---
Tour Package Guidelines:
Since the precise cost of a customized tour is subject to specific accommodation choices, travel period (date/month/year), number of pax travelling together and other custom preferences. However, to enable you to chalk out your holiday plan, we suggest following budget guidelines (minimum 2 people are travelling together and sharing one double room) for a customized tour:

3-Star: $150 per person per day
4-Star: $200 per person per day
5-Star: $300 per person per day


SERVICES INCLUDED:
19 Nights Double / Twin sharing Accommodation.
Daily Breakfast and Dinner at the hotel, except day 01.
03 Economy Flights from Jaipur to Varanasi, Varanasi to Delhi and Delhi to Dharamshala. (Luggage 15 KG + 7 KG handbag).
All Airports pick up and drop services with our office's representative.
All sightseeing tour by AC Car/Coach as per the itinerary and group size.
AC Train tickets from Agra to Ajmer, and Amritsar to Haridwar by Chair class.
All Railway stations pick up and drop services with our office's representative.
All road taxes, parking fee, fuel charges, interstate taxes, and all other expenses related to the coach.
Morning and Evening boat ride on the Ganges river in Varanasi.
Localtour guide in Delhi, Agra, Puskar, Varanasi, Dharamshala, Amritsar, & Rishikesh.
All entrance fees, Monuments, forts and Palaces etc. (One Time).
Luggage handling of a suitcase in Railway stations.
Service of an English-speaking tour manager for 20 days.
05 Days Morning Yoga and Meditation Season in Rishikesh.


SERVICES NOT INCLUDED:
Personal expenses like liquor, soft drinks, beverages, phone calls, laundry, postage, souvenirs, etc.
Tipping and Gratuities for Guides, Drivers, hotels, restaurants, railway stations, rickshaw driver etc.
Per and Post-tour accommodation, transportation, or any other services.
Lunches not included unless mentioned / No Breakfast on Day 01.
Transportation during the day at leisure / sight-seeing unless specified.
Camera fee in the monuments.
International flight and Visa fees.
Any services not specified above.

Any kind of insurance such as baggage loss, damage, flight delayed, trip cancellation/ extension, medical and life. It is necessary to buy before flying to India to protect against unforeseen circumstances.

Any extra expense incurred due to any unforeseen circumstances political or natural such as riots, strikes, floods, storms road blockade, delay or cancellation of trains/flights, will have to change the tour programme accordingly, which may result in missing of some part of sightseeing as per planned tour itinerary.

Any change made by the passenger in any respect the difference will have to be borne by the passenger directly in India.
---
All our independent itineraries are completely flexible and can be customised to your requirements.
If you would like more information please feel free to contact us: bhagirathitour@hotmail.com OR call: 0091 – 9719016952