Experience Himalayan trekking and walking holiday tours through India's most beautiful, heritage and culture cities, explore best Himalayan trekking and walking holiday routes of Indian Himalayas, its vibrant culture, spiritual cities, visit ancient temples, walking through Village to village, meadows, Hills, and sleep under the stars admire the natural beauty and swap smile with locals in far-off villages.18 days and 17 nights Himalayan trekking and walking holiday tour package takes you very old Hindu pilgrimage trail through the spectacular scenery of the Garhwal Himalaya. Starting from Delhi we make a classic railway journey to the pilgrim towns in the foothills of the Indian Himalayas. Here we will be immersed in the vibrantly colorful, spiritual, and bustling heart of this mystical sub-continent. India's culture, like its people, has a rich mosaic of vibrant, chaotic, incredible contrasts and paradoxes. Leaving the towns behind we join the throngs of pilgrims heading for the source of the holy Ganges on the glacier at Gaumukh. The source of the Ganges is one of the most revered and spiritual places in all of India. Leaving the crowds behind we will trek through lofty snow-capped Himalayan peaks spending three nights in Tapovan, one of the world's most beautiful Himalayan meadows. Fully supported by our local team who will take care of us well, our only concern should be to take it easy, acclimatize slowly, have fun, and take some amazing images. By immersing ourselves at the moment and approaching each day with curiosity and flexibility we will come to understand that India is truly one of the world's most stunning trekking and photographic locations.
---
Destination: Delhi - Haridwar - Rishikesh – Uttarkashi – Gangotri – Bhojbasa – Gomukh the source of Ganges – Tapovan – Meru

Highlights:
Spectacular views of Shivling and the Bhagirathi group of peaks.
Beautiful Trekking to the Source of the Ganges.
Atmospheric Gangotri and its pilgrimage temples.
Traverse the Gamukh glacier.
Rishikesh and the lamp-floating Aarti ceremony.
Delhi railway station.
Night photography over the mountains.
Classic Indian train journey.
Stunning Himalayan sunrises and sunsets.
Trekking with Hindu pilgrims and Sadhus.
Jagged peaks of the Garhwal Himalaya.
Spires of rock and ice.
Sadhus and pilgrims.
Classic portrait photography.
Wild rivers.
Three Nights on top of the World.
Visit best meadows in the world.
Extension optional tour to Agra the beautiful Taj Maha and Jaipur known as pink city.
---
TOUR ITINERARY
---
Day 01: Arrive at delhi

Our driver will meet you at the airport and transfer you to our first night hotel close to Delhi railway station and old Delhi. This is a very well placed hotel for the best sights in old Delhi with its amazing bazaars and interesting backstreets. Our hotel directly overlooks the famous Chandni Chowk mosque, a unique photographic opportunity. If you would like to book any extra days before or after the official trip dates please contact us for information.

DAY 2 - 3: Train to Haridwar to Rishikesh:
Early morning we transfer to the railway station to catch the express train to Haridwar. The train journey takes around four hours and is a rich source of photographic opportunity both in the station and on the train itself. We arrive in Haridwar at lunchtime. Our drivers and cars for the short drive to Rishikesh on the banks of the Ganges meet us. In 1968 the Beatles Immortalised this town for westerners when they visited and stayed in the ashram of the maharishi Mahesh yogi. The town has many temples, shrines and ashrams and is a major starting point for the Char Dham Yatra is a set of four pilgrimage sites in India. Yamunotri, Gangotri, Kedarnath and Badrinath. We spend two nights in Rishikesh to thoroughly explore this interesting and photographically rich pilgrim town. In the evening we will witness the 'Aarti' ceremony, which is a pleasant ritual of worshipping the Ganga. The ceremony commences with the singing of Bhajans, (prayers) followed by a purifying and sacred ritual that takes place around a fire, with the offerings made to Agni the fire god. The lamps are lit and the Aarti takes place as the final part of the ceremony.

DAY 4: Drive to Uttarkashi: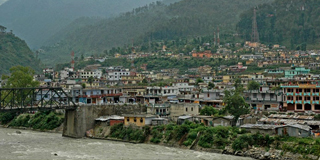 Today, we begin our drive up into the Indian Himalaya. Our route follows one of the major tributaries of the Ganges, the Bhagirathi River, which twists and turns through steep-sided and heavily forested valleys. After a day of exciting driving with spectacular scenery we arrive at the important pilgrimage town of Uttarkashi (1350m) in the state of Uttarakhand in India. The town lies on the banks of river Bhagirathi and close to the rivers Varuna and Assi. There are numbers of ashrams and temples located in and around Uttarkashi. Every year thousands of Colourfully clad devotees visit the town. An ancient temple of lord Shiva, known as Vishwanath temple, is located here. Apart from being a famous Hindu pilgrimage site, Uttarkashi is also known as the place for adventure lovers who pass through on their journey to enjoy trekking in the high Himalayan peaks.

DAY 5 - 6: Drive to Gangotri 3050m:
The scenery on our drive today rapidly becomes dramatic and we will start to see impressive rock spires and snow-capped peaks rising up above the valley sides. We reach the pilgrimage site of Gangotri (3050m) in the late morning. We will spend two nights here mindful of the need to Acclimatise before starting our trek. Surrounded by mountains and deodar forests, overlooking the thunderous Bhagirathi river, Gangotri, the base camp, makes a stunning setting. Gangotri is known as the source of river Ganga (the actual source being Gaumukh) no doubt we will find lots of interesting and unusual photographic subjects including the local pilgrims and the ever present mountain scenery.

DAY 7: Trek to Chirbasa 3600m: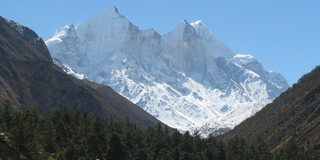 Our pace on the approach to Gaumukh and Tapovan is governed by our need to Acclimatise properly, rather than by the actual distance, which we are prepared to walk each day. The distances covered each day are short, averaging about 8 or 9 Kilometers and on most days we will be walking for no more than 5 hours. Our walk begins with a relatively easy ascent through forests of oak and pine. We follow the pilgrim's trail on a well-defined path, which climbs gradually beside the Bhagirathi river. It is said that king Bhagirath prayed to lord Shiva for salvation of the souls of his 60,000 sons. Shiva obliged and requested goddess Ganga to release her water, which purified the ashes of Bhagirathi's sons. This mythological story elevated the status of river Ganga as a means to purify one's soul. Today we see an impressive Himalayan peak, Sudarshan Parbat over 6000 meters looking stunning in the background. It lies in a cluster of many major peaks. After getting our permits checked we proceed on the trail high above thundering Bhagirathi river. There are a few isolated glaciers on this river that are melting rapidly and swelling the milky waters. We will reach our camp at Chirbasa in time for a hot lunch. From our camp on a level site beside the river, we will have fabulous view of the surrounding Himalayan peaks such as the very impressive Bhagirathi group of peaks. Tonight will be our first night camping and a fine opportunity to experience/photograph the darkness and stars that are common in such remote places.

DAY 8 - 9: Trek to Bhojbasa 3800m:
Accompanied by hardy pilgrims, we continue our hike in this impressive valley, climbing through pine forest to the alpine plateau of Bhojbasa (3800m). Arriving in camp after just a couple of hours walking, we will take an early lunch. In the afternoon we will take it easy to allow our bodies to acclimatise to the heady height of 3,800 m. We stay here for two nights to allow a more relaxed walk on the following day to the legendary source of the Ganges, where we can dip our feet in the sacred water of the river. The holy river Ganges is the most sacred river in the Hindu religion with its source at the Gamukh glacier, considered as one of the holiest places for Hindus who come here to witness the birth of mother Ganga! Gaumukh is a unique sight for only when you get close do you realise how big and magnificent this glacier really is! The walk will give us some valuable acclimatization in preparation for our trek to Tapovan the following day. For the less energetic, a short distance above camp we will get our first views of Shivling which many consider to be one of the world's most spectacular Himalayan peaks. There are usually lots of Colorful Sadhus or holy men to around this particular camp.

DAY 10 - 12: Trek to Tapovan 4350m:
From Bhojbasa, we trek a little way back up towards Gaumukh before turning onto the Gangotri glacier. We cross the glacier by following a well cairned trail that leads to the east side of the glacier. This is truly exciting trekking. We have superb close up views of the snow-capped peaks including Bhagirathi, Shivling, Meru, and Kharchkund. Tapovan (4350m) will be our base for three nights. From here Shivling rises from its base all the way to its summit. It is indeed a rare sight in the Himalayas to see a mountain in its entirety. Aesthetically Shivling is one of the world's most photogenic mountains. Majestic mountains viewed from such a close range are totally special. Here we find (Neelatal) blue lake, a turquoise glacial lake with the snow-capped giants Shivling and Meru in the background. The perfection and clarity of the view is surreal! In Tapovan we camp in a large meadow. Three nights here will allow us to be unhurried with our photography. We are in a superb place for some remarkable Himalayan sunrises, sunsets and Himalayan giants against the night skies.

DAY 13: Trek down to Chirbasa 3600m:
Rising early, we can hopefully enjoy a final spectacular sunrise over the surrounding 6000 meter peaks. Following breakfast, we set off downhill on the first leg of our return to Civilisation. Re-crossing the Gangotri glacier, we descend the valley with a welcome stop for lunch near the trail at a local Dhaba. We will reach the camp back at Chirbasa mid afternoon.

DAY 14: Trek down to Gangotri and Uttarkashi 1350m:
From our camp at Chirbasa, we descend easily through the pine forest for just a couple of hours to Gangotri. We will no doubt feel full of energy as our lungs fill with rich oxygen! In Chirbasa we rejoin our vehicles and drivers to take us on the return journey down the scenic Bhagirathi valley to Uttarkashi. The town has similar ghats and temples to Varanasi and is a marvelous place for photography. It is often referred to as 'little Varanasi'! The most important temple here is dedicated to Shiva and known as Vishwanath Mandir, many pilgrims will come here for 'Puja', prayers and blessings.

DAY 15: Drive from Uttarkashi to Haridwar:
Today we make the seven-hour road journey to Haridwar. The views are spectacular and we will break the journey with photographic stops and lunch.

DAY 16: Haridwar to Delhi:
This morning we board the train for Delhi. Arriving around lunchtime we will have time to explore several options including the mosque, Delhi railway station or the fascinating streets and markets of old Delhi. Alternatively we can take a long shower, relax and contemplate our amazing Himalayan adventure. In the evening we will enjoy a celebratory dinner together.

DAY 17: Delhi:

DAY 18: Home flights:
Transfer to Delhi international airport for homeward flights.
---
COST INCLUDES AS FOLLOWING:
01. All accommodation at Road heads in Hotel / Guest Houses / Tourist Bungalows during the travel.
02. All meals hygienically cooked and served by our specially trained staff for westerners except in Delhi, Haridwar & Rishikesh.
03. All transportation as per above itinerary by Car/coach as per group size.
04. Services of English speaking professional trekking & tour guide, cook, and camp staff.
05. Porterage/Ponny during the entire trek.
06. All tourist taxes during the travel.
07. Visit to all important temples and places during the entire trip.
08. All camping gears as; Tents, Mattress, camping chairs and folding table, dinning tent and Toilet tents etc.
09. Portage of food, camping & kitchen equipment on the trek.
10. Portage of personal baggage on trek.
11. Trekking permits and camping fees on the treks.
12. National Park permission.
13. All Sightseeing tours.
14. All Taxes.
15. Hotel in Delhi, Rishikesh & Haridwra Only dinner & Breakfast basis and from Uttarkashi to Uttarkashi includes all meals.

COST NOT INCLUDE AS FOLLOWINGS:
01. Personal expenses such as tips, telephone calls, drinks, postage, laundry and souvenirs.
02. International flights and departure taxes.
03. Visa and passport fees.
04. Travel insurance {Necessary to buy}.
05. Emergency evacuation.
06. Items not specified in "Cost Includes".
07. Camera fees during the trekking.
08. Sleeping bags.
09. Any extra meals.
10. Medical expenses, Medical box with oxygen cylinder.
11. Personal gears used for trekking / expedition.
12. Any extra costs incurred due extension / change of the itinerary due to natural calamities, flight delays, road blocks, vehicle Breakdown etc. factors beyond the control of our organization.

Accommodation and meals:
Accommodation is based on 3 star Category in Delhi / Rishikesh / Haridwar, In hilly area there are limited choices of accommodation sub. to the each places. Neat and clean local standards of hotels, Fixe camps or guest houses will be provided. While traveling Indian vegetarian meals is served, Non veg. is strictly forbidden due to religious mater. Indian recipes are bit on spicy side, Breakfast and dinner will be served at the hotel, Lunch packed or in local restaurant or in hotel sub. to the schedule. While trekking you will be assisted by kitchen team with all necessary items including two men spacious tent, mattress, dining tents from 4 persons onward, toilet tents and all necessary items. Our chef will prepare verities of Indian, Chinese and Continental vegetarian meals, Chefs on trek are used to cook for the western guest and pay their attention to dose the spice, Breakfast and dinner will be served at camp, lunch is always packed, Afternoon snacks is served with hot beverages as of tea and coffee.

Mode of Transport:
Sub. to the number of person in group, for 2 to 4 + guide by Toyota Innova / Scorpio / Zylo. for more than 5 persons Tempo travelers or mini bus. All vehicle will be air-conditioned, except in hilly area air-condition of any vehicle can not be regularly used due to steep uphill drive, So you have to co-operate with. For the autumns, winter and spring season, when temperature goes down, if you required heater except minibus each of those mentioned vehicle have the heating facilities except while uphill drive. During trekking your baggage will be transported by porters/ Mule and horse.

Road:
You can face land slide due to rainfall and can be blocked for a days or more, you may miss the places expected to visit, or will visit the unexpected places, to regulate the situation the team at the spot will do the best possible at the moment. Here road are rough, and are being widen, So please don't compare the driving time as estimated in developed nation.

GOLDEN TRIANGLE EXTENSION:
A visit to the incredible Taj Mahal and other Moghul cities close to Delhi is an excellent way to begin or end a visit to Northern India. The five-day Golden Triangle extension can be booked before or after your main itinerary. The Taj Mahal in Agra was built by the Moghul Emperor Shah Jahan in memory of his beloved wife, Mumtaz Mahal, who died in 1631, and is one of the most beautiful sights on earth. Close by is the imposing Red Fort of Akbar with its beautiful courtyards and palaces and let's not forget the deserted royal city of Fatehpur Sikri. The extension also visits the Pink City of Jaipur, capital of Rajasthan, which is one of the most attractive and colourful cities in India
---
All our independent itineraries are completely flexible and can be customised to your requirements.
If you would like more information please feel free to contact us: bhagirathitour@hotmail.com OR call: 0091 – 9719016952