Kuari pass trek through the most beautiful villages of Indian Himalayas such as Rishikesh, Ghat village, Ghunni Village, Vinayak pass, Jhinjhi Village, Pana Village, Kuari pass Top, Tali, Auli, Joshimath village, Rudraprayag and Devprayag where Alaknanda and Bhagirathi rivers meet and take the name Ganga or Ganges. 10 days and 9 nights Kuari pass trek and tour package you will experience the best of Indian culture and trekking through the most beautiful villages, meadows, rivers, beautiful Landscapes, Pristine Rhododendron, oak, deodar forest, and rarely Himalayan flora and fauna are found on this trek. Kuari pass also known as Lord Curzon trail is probably the best way to see the amazing view of Snow clad Himalayan range such as Nanda Devi second highest mountain in India 7,816 m, Kamet 7,756 m, the second-highest mountain in the Garhwal region, Neelkanth (6596m), Kamet (7756m), Mukut Parbat, Mana, Nilgiri Parbat, Trishul (7120m), Hardeol, Dronagiri, Rishi Pahar, Kalanka, Chaukhamba (7128m), Lampak, Changabang (6864m) , Ronthi, Bithartoli, Kamet (7757m).

10 days Kuari pass trekking tour start and end in Dehradun airport / Haridwar! With the in-depth cultural and nature experience includes all accommodation in hotels/ Resort, camping, meals, trekking permit, private transport by car/ bus, local English/ Hindi speaking tour guide, Cook, porters, and all trekking equipment.

Destination: Dehradun - Rishikesh – Ghat - Ghunni Village – Vinayak pass – Jhinjhi Village - Pana Village - Kuari pass Top - Tali – Auli – Joshimath – Rudraprayag and Devprayag

Highlights of Tour:
Visit Rishikesh
Visit Beatles ashram and Sivananda Ashrams
Visit Ancient Temples and Ashrams
Explore Indian rituals and Ceremony (Sunset Ganga Aarti on the bank of Ganga)
Walking through beautiful meadows and hills stations
Visit Himalayan villages
Camping in Himalayas
Trekking in Himalayas
Walking over iconic suspension bridge across the Ganga
Best view of Himalayas
Experience rich and colourful Indian Culture
---
TOUR ITINERARY
---
Day 01: Arrive in dehradun airport

On arrivel at Dehradun airport and we will provide you taxi service to Rishikesh, arrive check in at hotel and Lunch, after visit the Ghat's s to encounter evening Ghat life as well as special Arti "The Prayer dedicated to Goddess Ganges" " the town of ashrams and temples, Ghats and pilgrims, mountains and the holy Ganges. When global orange sun suspended, waits low amid the red/yellow streaked horizon, then all these combine to give this town a very special evening. The temple bells roar, priests enchant mantras. Immersed in sublimation stand the pilgrims. Cupped leaves, with saffron marigold petals and a small candle flame, flickering ride the current of water of wisdom. Suddenly the sky darkens, spreading a blanket of stillness. Everything stops, except the sound of current, which has just sunk the tiny flames of cupped leaves, few minutes back. After experiencing above we trace ours steps back to the hotel. Dinner and overnight hotel.

DAY 02: RISHIKESH – GHAT (236KMS / 8 HRS)
After an early breakfast drive to Ghat via Devprayag, Rudraprayag, Karnprayag and Nandprayag, the most famous confluences of Garhwal Himalayas. Ghat is a huge village with more than a couple of schools, government offices and more or less happening market for the Nearby villages. Overnight in the tent.

DAY 03: GHAT – SELU BAGAR – GHUNNI (6 KMS/2-3 HRS)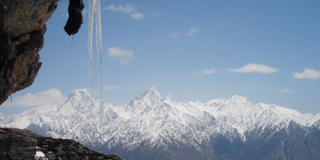 It's time to board typical Himalayan village jeeps which will take you to Selu Bagar, a small center with a handful of shacks serving as village shops and is our starting point for the trek. This drive is of 7 km and will take around 30 minutes. You meet our ponies/porters at this point. The trail from here is well distinctive with continuous switch backs winds to the ridge from where you can see settlements of Ramni and Ghunni villages. From here its walk through the village full of colors of Himalayan inhabitants makes hike more entertaining. After passing through couple of cluster settlements the trail takes you go past the village to an open plateau above Ghunni which is our campsite for the day. Overnight in the tents.

DAY 04: GHUNNI – VINAYAK PASS – JHINJHI VILLAGE (13 KMS/6-7 HRS)
The day requires an essential early start not only to negotiate the long days but also to acquaint beautiful Himalayan views. The trails winds up to the ridge top towering high above the campsite at Ghunni. After crossing the ridge you will come to an open meadow with stunning views of some of the Himalayan jewels i.e. Nanda Ghunti, Chaukhamba and an awesome view of Ramni and Ghunni settlements just lower down the valley. From here the trail continues to climb gently, passing through beautiful forests of Rhododendron, followed by pasture grasslands for sheeps and cattles with some nomadic huts. The trail from this point climbs with a couple of switch backs which again becomes gentle and takes you to an open meadow with gorgeous views of Nanda Ghunti peak. Continue with the trail which is more or less gradual finally takes you to Vinayak Pass. The pass is marked with a Ganesha temple with a prayer flag. From here you will get to see some excellent view of Himalayas and first glimpse of Kuari pass at a distant. From the pass the trail starts to drop down gently and in point in times becomes steep, which continues to drop passing through Sem Kharak and finally takes you to the village of Jhinjhi. Overnight in the tents.

DAY 05: JHINJHI – PANA VILLAGE (8 KMS/4-5 HRS)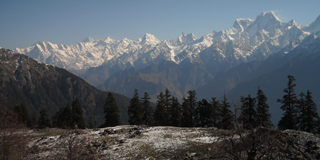 The day's walk starts with an aroma of living style and culture of people of Jhinjhi village. The trail continues to descend through the village finally comes to the valley floor and brings you to a high suspension bridge over river Birahi Ganga. After crossing the bridge you get to the true right of the valley. The trail now climbs steeply with zig zags initially and later with some false summits finally to the ridge. Again some compensating views of the nearby settlements and some Himalayan peaks are really appreciable. From this point path is gradual and passes through a beautiful forest of Rhododendron finally go past Kaliagad to the settlement at Pana. A final ascend of less than a kilometer will bring us to the campsite above village of Pana. Overnight in the tents.

DAY 06: PANA – DAKHWANI (3300 MTS/10824 FT) 14 KMS/5 HRS
The trail is well distinctive above the camp site passing through a forest of Rhododendron with a couple of fall summit and finally takes you to the ridge. Now trail continues gradually through the forest to an open meadow of Sartoli which serve as camping site as well as pasture land for a sheep & cattle. This is an ideal place to view Kuari Pass dominating the horizon. Initially the trail from Sartoli starts to descend gradually for a couple of kilometers but in the later part the final descend to the side stream is very steep with loose moraine (The guest are required to use their trekking poles during this stretch). Cross over the side stream and start a steep ascend with a series of switch backs to the ridge top. From here trail traverses slightly with a couple of ascend again and finally takes you to another side stream just under Dhakwani. From this point it's about a half an hour climb to the campsite at Dhakwani. A cup of tea with cherishing flavor is worth it. Overnight in the tents.

DAY 07: DAKHWANI – KUARI PASS (3800 MTS/ FT) – TALI (9 KMS/5-6 HRS)
This day requires an early start in order to get a magnificent view at the pass. The trail from Dhakwani continues to climb through the forest until we cross the tree line. From this point the path traverses to the left of the valley just under the pass and continues with a series of switch backs straight to the pass. Oh what a fabulous, stunning, magnificent views of greater Himalaya is waiting to be admired. Take your time, relax and enjoy photography at the pass. The trail from the pass slightly ascends to a hump. From where you will find an excellent view of Dronagiri peak. After this the trail descends to a point with a bifurcation to Tapovan & Tali. Continue on the trail to Tali which leads to a ridge with temple and prayer flags. From here the Great Nanda Devi peak comes in view. The trail goes past through pasture land and enters the forest and finally leads to the campsite at Tali. Overnight in The tents.

DAY 08: TALI – AULI – JOSHIMATH (2550 MTS/8364 FT) 17 KMS/5-6 HRS
This morning is the morning at ease. The trail from Tali is a gradual climb across mountain ridge. This trail is narrow and requires cautious walking until it reaches Gorson meadows. From here it's all Himalayas all around. Great Nanda Devi peak is utmost admirable and dominating amongst the many. The crossing of Gorson meadow is real fun and most enjoyable walk. Finally the man made concrete contractions could be seen from a distant marks the village of Auli. It's time to say bye to the ponies and porters. Board a Jeep to town of Joshimath which is 13 kms drive. Joshimath is a happening market place and serves as a supply to nearby villages. Overnight in the hotel.

DAY 09: JOSHIMATH – RISHIKESH (244 KMS / 10 HRS)
Early morning drive to Rishikesh. On the way visit Rudraprayag where river Mandakini and Alaknanda meet. Lunch en-route Arrive Rishikesh by evening. Check into the hotel for dinner and overnight stay.

DAY 10: RISHIKESH – DEHRADUN DEPARTURE
Morning breakfast at hotel, after visit at Lakshman Jhula a popular attraction of Rishikesh. The place is known to offer picturesque views of the lush green forests. The bridge was built in the year 1939 and it is believed that Lakshman, brother of Lord Ram, crossed the Ganges on jute ropes, on which the bridge stands today. Later checkout hotel and transfer to Dehradun, Tour & Service end at Dehradun.
---
COST INCLUDES AS FOLLOWING:
01. All accommodation at Road heads in Hotel and Guest Houses during the trip in Rishikesh & Joshimath Include Dinner & Breakfast.
02. All meals hygienically cooked and served by our specially trained staff for Indian and westerners except in Rishikesh & Joshimath.
03. All transportation as per above itinerary by Mimi coach from Dehradun to Dehradun.
04. Services of professional trekking guide, cook, and camp staff.
05. Porters during the trip for trekking an kitchen equipments.
06. All tourist taxes during the travel.
07. Visit to all important temples and places during the entire trip.
08. All camping gears as; Tents, Mattress, chairs, table, dinning tent and Toilet tents etc.
09. Portage of food, camping & kitchen equipment on the trek.
10. Porters/ pony of personal baggage on trek less than 15 Kg Per person.
11. Trekking permits and camping fees on the treks.
12. All Sightseeing tours.
13. Hotel in Rishikesh includes Dinner & Breakfast day 1 and day 9th and Guest house in Joshimath include Dinner & Breakfast basis.

COST NOT INCLUDE AS FOLLOWINGS:
01. Personal expenses such as tips, telephone calls, drinks, postage, laundry and souvenirs.
02. Any international or Domestics flights.
03. Travel insurance.
04. Any Emergency evacuation.
05. Camera fees during the trekking.
06. Service of Extensive Medical Kit.
07. Sleeping bags.
08. Items not specified in "Cost Includes".
09. Hotel in Dehradun or any extra meals.
10. Any extra costs incurred due extension / change of the itinerary due to natural calamities, flight delays, road blocks, vehicle Breakdown etc. factors beyond the control of our organization.
---
All our independent itineraries are completely flexible and can be customised to your requirements.
If you would like more information please feel free to contact us: bhagirathitour@hotmail.com OR call: 0091 – 9719016952