Perhaps no other part of India has seen migration on a larger scale than the hill stations and temples of Kumaon and Garhwal in Uttarakhand. Experience Hill Stations and temples tour Package through most popular hill stations, ancient temples, and popular heritage destinations in Garhwal and Kumaon region. Garhwal, Kumaon Hill stations and temples tour package in Uttarakhand starts from Delhi to Jim Corbett National park famous for its fauna like tigers, elephants, Deers, Para or hog deer, Sambar, Kakaror Barking deer, Leopards and many more animals. Nainital (lake) one of the most beautiful hill stations in north India. Almora Known for its cultural diversity and shaped like a horse-shoe is a hill station that boasts of a pre-British heritage and an idyllic vibe. Binsar Wildlife Sanctuary is perched on top of the Jhandi Dhar hills covered with oak, pine, deodar trees. Kausani It is famous for its scenic splendor and provides a delightful sunrise over the Himalayas. Chopta a beautiful Hill station is also known as 'Mini Switzerland'. Rudraprayag the confluence of Alaknanda and Mandakini Rivers, Devprayag the confluence of Alaknanda River where Alaknanda and Bhagirathi rivers meet and take the name Ganga or Ganges. Rishikesh located in the foothills of the Himalayas, and it is known as the "Gateway to the Garhwal Himalayas" and "Yoga Capital of the World" and New and Old Delhi the capital of India.

Experience 16 days Kumaon and Garhwal tour start and end in New Delhi, and includes all accommodation in hotels/ resort, meals, private transport by car/bus and local English/ Hindi speaking tour guide.
Destination: Jim Corbett National Park – Nainital - Almora – Binsar - Kausani – Chopta - Rudaprayag – Devaprayag – Rishikesh - Delhi
Highlights of Tour:
Visit Jim Corbett National Park
Visit Nainital Lake
Visit Almora Hills Stations
Visit Binsar Wildlife Sanctuary
Walking through Dense Forest and Meadows
Visit Kausani Hill Station
Visit Himalayan Villages
Visit Rudaprayag and Devaprayag Confluences of two Historical Rivers
Walking Over Iconic Suspension bridge across the Ganga
Visit Beatles Ashram and Sivananda Ashrams
Visit Ancient Temples and Ashrams
Sunset Ganga Aarti on the Bank of Ganga
Visit Rishikesh Old City
Experience Rich and Colourful Indian Culture
---
TOUR ITINERARY
---
Day 01: Arrive at DELHI

Arrival in Delhi, the cosmopolitan metropolis and capital of India. Your driver will be waiting for you at the airport. Transfer to the hotel.

Day 02: New Delhi
In the morning we have sightseeing in Old Delhi. We drive to the Red Fort through the old city and famous Silk Road and Silver Bazaar. Sightseeing of Old Delhi includes "Rajghat", the site where Mahatma Gandhi was cremated and Jama Masjid, the great mosque of old Delhi. Today we also visit the famous "Humayun Tomb" which is the first substantial example of Mughal architecture in India and "Qutub Minar". "Qutub Minar" is 71 meter high and consists of five stories. In 1199 work began on this tower which was intended to be the most glorious tower of victory in the world. This tower was damaged twice and repaired in 1326 and 1368. Before we proceed to the Hotel we drive through the embassy area in New Delhi where we visit the India Gate and see some impressive Government Buildings.

Day 03: Delhi – Ramnagar (about 260 km / 6 hours)
Morning after breakfast Ramnagar by surface and reach this small city near Corbett latest by noon. Upon arrival check-in at the resort. After you done with check-in and all such procedures take lunch and have rest. After a short break you may visit Garjia temple which is situated 14 Kms away from Ramnagar city. You will find a huge rock in the middle of the river Kosi, which has been named as Garjia Devi. Further we head towards Corbett museum which is situated at Dhangarhi gate. Come back to the resort late in the evening, have dinner and overnight night stay.

Day 04: Ramnagar: Jim Corbett National Park
Corbett Jeep safari Morning 3hrs. Corbett Jeep safari afternoon 2PM to 4PM)

Day 05: Jim Corbett National Park – Nainital (about 150 km / 4 hours)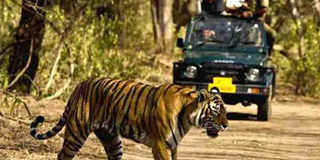 In the morning after breakfast, we will leave for Nainital. It will take around 2hrs to reach Nainital. On arrival, check-in to the hotel and take rest for an hour. Post lunch we will go for sightseeing. After sightseeing, come back to hotel. Dinner and overnight stay at the hotel.

Nainital Located at a height of 1,938 meters (6,358 feet) above sea level, Nainital is among the center of attractions in Uttarakhand. This hill station cuddles oodles of natural wonders in its arms and perhaps, that's why tourists from different nooks and corners of the globe visit the place.

Day 06: Nainital (2000 m)
After breakfast, Full day is at leisure to explore the hill retreat of Nainital. It is blessed with scenic natural splendour and varied natural resources Visit to lakes tour of Bhim Tal, Sat Tal, Naukuchia Tal , Snow point Mall road, Boating Club, Cable Car Ride & Thandi Sadak etc.Later back to hotel. Rest of the day free at leisure. Overnight stay at hotel at Nainital.

Day 07: Nainital – Almora - Binsar (about 91 km / 3 hours)

After breakfast, check out from hotel, and then drive to Binsar via Almora.

Almora: is a scenic hill station in the northern state of Uttarakhand, Almora is a quaint town in Kumaon Hills in the Himalayan range. It is at an average height of 1,651 meters above sea level, and is surrounded by greenery all around with beautiful thick forests of fir and pine trees covering the hills. Almora is a town of temples, with temple of Goddess Nanda Devi placed in the centre of the town. Almora is an agricultural base and a trade centre of dynamic activity. Silently placed in the lap of dutiful nature, Koshi (Kaushaki) and Suyal (Salmali) rivers flows by the side of this town and the town after continue drive to Binsar is a small town in the state of Uttarakhand and is located amidst dense green forests. It is famous for the Binsar Wildlife Sanctuary. Located on the Jhandi Dhar hills of Kumaon. The place is known for its greenery and is surrounded by virgin forests of oak, rhododendron, pine and deodar all around. The main attraction of the town of Binsar is the wildlife sanctuary. The sanctuary covers an area of 45.59 sq km and has a wide variety of flora and fauna residing in. It is believed that over 200 varieties of birds are found in Binsar along with animals like deer, leopards, Himalayan bears, monkeys, foxes, flying squirrels and many others, making it a popular destination for wildlife enthusiasts. Day at the sanctuary. Later check in at hotel. Overnight stay at hotel at Binsar.

Day 08: Binsar
We will explore in Binsar Wildlife Sanctuary. Overnight stay at hotel at Binsar.

Day 09: Binsar – Kausani (about 64 km / 2½ hours)
After breakfast, check out from hotel drive to Kausani.

Kausani: nature own reserve and idle to spend a quiet holiday in the lap of nature with stunning view of the Himalayan ranges. Mahatma Gandhi, during his stay at Kausani, penned his memorable commentary on the 'Gita-Anashakti Yoga' inspired by the scenic grandeur of this richly gifted spot. Mahatma Gandhi was so much impresses that he started calling it "Switzerland of India". The guesthouse where Mahatma Gandhi stayed is now known as the Anashakti Ashram. Famous Hindi poet Sumitra Nandan Pant was born at Kausani. Some of her early poems composed here have described the nature in its manifestations. Arrive at Kausani,transfer to hotel, check in to hotel. Afternoon picnic near the River Kosi and day to explore the beauty of nature. later back to hotel. Rest of the day free at leisure. overnight stay at hotel at Kausani.

Day 10: Kausani
In the morning witness the beautiful sunrise in the snow-capped Himalayas. After the delicious breakfast, proceed to explore the mesmerizing beauty of Kausani region. Visit Anasakti Ashram it is Known as Gandhi Ashram, Laxmi Ashram, Sumitranandan Pant Gallery, Kausani Tea Estate. Evening free at leisure overnight stay at the hotel.

Day 11: Kausani - Chopta (about 187 km / 6½ hours)
After breakfast, check out from hotel drive to Chopta.

Chopta is an unspoiled natural destination lying in the lap of the Uttarakhand Himalayas and offers views of the imposing Himalayan range including Trishul, Nanda Devi and Chaukhamba. It is located at an elevation of 2,680 metres (8,790 ft) above sea level. Chopta village is surrounded by forests of pine, deodar and rhododendron and is rich in flora and fauna include rare species of birds and musk deer. Arrive at Chopta, transfer and check in to camp, Rest of the day free at leisure. overnight stay at camp.

Day 12: Chopta
We will explore in Chopta. Later trek back to Chopta for dinner and overnight stay at camp.

Day 13: Chopta – Rudaprayag – Devaprayag – Rishikesh (about 208 km / 6½ hours)
After breakfast, check out from camp drive to Rishikesh via Rudrapryag is one of the Panch Prayag of Alaknanda River, the point of confluence of rivers Alaknanda and Mandakini. And Devprayag is one of the Panch Prayag of Alaknanda River where Alaknanda and Bhagirathi rivers meet and take the name Ganga or Ganges River, arrive in Rishikesh check in at hotel, Evening free at leisure overnight stay at the hotel.

Day 14: Rishikesh
Morning breakfast after free to explore Rishikesh "The Capital of World Yoga" visit with Tour guide at Lakshman Jhula, a popular attraction of Rishikesh. The place is known to offer picturesque views of the lush green forests. The bridge was built in the year 1939 and it is believed that Lakshman, brother of Lord Ram, crossed the Ganges on jute ropes, on which the bridge stands today. In the evening, visit the Triveni Ghat to witnessr special prayer ceremony. It is very interesting to watch the prayer ceremony. Dinner & Overnight stay.

Rishikesh set in the foothills of the Himalayas, Rishikesh is a beautiful city that remains thronged with devotees and adventure enthusiasts all through the year. The city features a unique charm and scenic beauty which adds to the visit of every traveler. The place holds immense religious importance as it is the starting point of sacred pilgrimage tours of Hindus- the Char Dham Yatra (comprising Gangotri, Badrinath, Yamunotri and Kedarnath).The place features a serene and pleasant ambiance which is perfect for those who wish for some privacy and peace, away from the daily hustle and bustle of the overcrowded cities.

Day 15: Rishikesh – Delhi Via Haridwra (about 230 km / 6 hours)
Morning after breakfast later Haridwar Sightseeing (Har ki Pauri and Near By temples) and then later drive to Delhi, arrive check in at hotel dinner & overnight stay at hotel.

Day 16: Departure Delhi
Morning after breakfast transfer to International airport for 0nword journeys to home.
---
All our independent itineraries are completely flexible and can be customised to your requirements.
If you would like more information please feel free to contact us: bhagirathitour@hotmail.com OR call: 0091 – 9719016952