Experience Uttarakhand walking tour with a local tour agency through the most beautiful, historical, and religious cities of Uttarakhand such as Haridwar the city of holy Ganges, Mussoorie, The Queen of Hill Stations, Rishikesh in the foothills of the Himalayas, it is known as the "Gateway to the Garhwal The Himalayas" and "Yoga Capital of the World". Devprayag is one of the Panch Prayag of Alaknanda River where Alaknanda and Bhagirathi rivers meet and take the name Ganga or the Ganges River, Rudraprayag confluence of Alaknanda and Mandakini Rivers, Joshimath is one of the four 'Math' created by Adi Shankaracharya, and the home of Shri Badrinath during winters. Auli is best a hill station in summer offers a stunning view of the three snow-capped mountain ranges in the Himalayas, such as Nanda Devi, Kamet Kamet, and Mana Parvat. Auli It also has a wide range of flora and fauna, including huge apple orchards. Tourists visit Auli almost throughout the year as there are a number of religious places in and around Auli.

7 days Uttarakhand walking tour starts, and ends in Haridwar/Dehradun airport, and includes accommodation in hotel/guest house, meals, private transport by car/coach, and local English/ Hindi speaking tour guide.
Destination: Haridwar – Dehradun - Mussoorie – Dhanaulti – Surkanda Devi - Chamba - Rishikesh - Devprayag - Rudrapryag - Joshimath – Auli
Highlights of Tour:
Visit Daksha Mahadev Temple
Visit Har Ki Pauri Ghat
Ganga Aarti on the bank of Ganga in Haridwar and Rishikesh
Visit Haridwar, Dehradun, Mussoorie, Dhanaulti, Surkanda Devi, Chamba, Rishikesh, Devprayag, Rudrapryag , Joshimath, Auli
Visit Panch Prayag means "Five Confluences". Vishnu Prayag, Nanda Prayag, Karn Prayag, Rudraprayag and Devprayag
Visit beautiful Hills stations
Visit Best meadows in India
Walking through dense forest
Visit ancient religious cities
Visit Temples and Ashrams
Experience rich and colourful Indian Culture
Travel through beautiful Uttarakhand hills stations.
---
TOUR ITINERARY
---
Day 01: Arrive at Haridwar
Morning Arrive at Haridwar and Transfer to Hotel evening visit sightseeing tours of Haridwar

Har Ki Pauri: This ghat is one of the most sacred Ghats in India. People say that this ghat was built by Vikramaditya in memory of his brother Bhartrihari. This ghat is also known as Brahmakund. In the evening a Maha Aarti is performed on this ghat. It is an event which is a must, not be missed by any visitor.

Mansa Devi: This temple is located on top of a hill called the Bilwa Parvat. The temple can be reached by the rope way or one can take the normal trekking route to the top. The top of the hill gives you an excellent view of Haridwar.

Daksha Mahadev Temple: Four Kms from Haridwar is a town called Kankhal. Mythology says that the king of this place King Daksha Prajapati performed a yagya. His daughter, Sati was married to Lord Shiva. But Daksha was not happy with this marriage and did not invite Shiva-Sati in the Yagya. But Sati came and was insulted by her father. She could not take the insult and burnt herself in the yagya kund. On hearing this followers of Shiva killed Daksha. But later Mahadev (Shiva) brought Daksha to life. The Daksha temple is an attribute to this legend. This place is one of the five sacred places in Haridwar.

Chandi Devi Temple: This temple is on the top of a hill called the Neel Parvat which is on the other side of the river Ganga. The temple was constructed by the King of Kashmir, Suchat Singh, in 1929 AD. Chandi Devi is a three km trek from the Chandi Ghat.

Sapt Rishi: At one place Ganga divides herself into seven small streams. This place is known as the Sapt Rishi and provides a very pleasing sight. Overnight will be at hotel.
Day 02: Haridwar - Dehradun – Mussorie 37 Kms Drive / 2 hours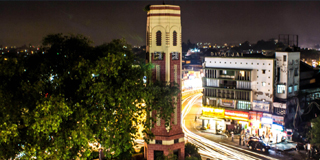 Morning Breakfast in Hotel at Haridwar After breakfast drive towards Mussoorie. On arrival check in hotel in Mussoorie. Later go out for sightseeing of Mussoorie. Mussoorie Situated around 37 kms from the Dehradun city is the beautiful hill station of Mussoorie. One of the most sought after tourist spot, Mussoorie the "Queen of Hills" came into existence in the year 1827 when an adventurous army officer named Captain Young discovered it. Being at a height of around 7000 feet, the cool and calm environment along with the picturesque natural weather makes it the perfect tourist destination not only in Dehradun but in overall Uttarakhand. From the top, one can enjoy the Mussoorie sightseeing places and view the Himalayan ranges, Badrinath, Kedarnath, Nandadevi and other beautiful snow clad mountains. Also because of the various hill tops it's a perfect place for the trekkers. During winters tourists enjoy the snowfall in Mussoorie and also have great fun throwing snowballs over each other. Dinner & Overnight stay will be hotel at Mussorie.
Day 03: Full day Mussoorie Sightseeing Tours
Morning after Breakfast Full day city Tours of Mussoorie / Dinner & Overnight stay will be Hotel at Mussoorie.

Kempty Falls: Located at 15 Km from Mussoorie amidst the picturesque surroundings of high mountain ranges, Kempty Falls has the distinction of being the biggest and prettiest waterfall in a valley. As water cascades down from an altitude of 4,500 feet and splits further into five small cascades, the breathtaking view make a spellbound effect on its visitors. People enjoy a refreshing bath at the base.

Gun Hill: The most famous attraction in Mussoorie, Gun Hill is the second highest peak of Mussoorie. Gun Hill offers an enchanting view of some of the highest Himalayan ranges namely Bunderpunch, Srikantha, Pithwara and Gangotri group. The point also offers a picturesque view of Mussoorie town and Doon Valley. You can enjoy a 400 m thrilling ropeway ride to land at this exceptionally beautiful misty peak. The cable cars swing between the Hall and Gun Hill more than 100 times a day.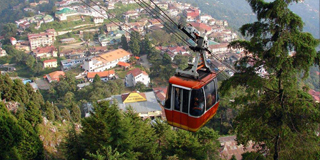 Municipal Garden: A beautiful garden with an artificial mini lake offering enjoyable boating facilities.

Lal Tibba: Situated close to Childer's lodge, the highest peak in Mussoorie, Lal Tibba is the oldest inhabited place in Mussoorie. You can enjoy a horse ride to reach at the peak, which offers an exhilarating snow view of the hills to its visitors.

Mussoorie Lake: The newly developed Mussoorie Lake is a favorite picnic spot situated on Mussoorie- Dehradun road and is about 6 km from the town. It also offers an enchanting view of the Doon Valley and nearby areas.

Other famous attractions in and around Mussoorie include the Lal Bahadur Shastri National Academy of Administration, Camel's Back Road, Jharipani Fall, Bhatta Fall, Nag Devta Temple, Van Chetna Kendra, Sir George Everest House, Jwalaji Temple, Clous End and many more. Besides, Mussoorie has many trekking routes ideal for fun and adventure trekking. Dinner & Overnight stay will be Hotel at Mussoorie.
Day 04: Mussorie – Rishikesh via Dhanaulti – Chamba - Surkanda Devi
After breakfast leave for Rishikesh covering sightseeing via Dhanaulti. – Chamba – Surkanda Devi - Evening visit the Ghat's s to encounter evening Ghat life as well as special Arti "The Prayer dedicated to Goddess Ganges" " the town of ashrams and temples, Ghats and pilgrims, mountains and the holy Ganges. When global orange sun suspended, waits low amid the red/yellow streaked horizon, then all these combine to give this town a very special evening. The temple bells roar, priests enchant mantras. Immersed in sublimation stand the pilgrims. Cupped leaves, with saffron marigold petals and a small candle flame, flickering ride the current of water of wisdom. Suddenly the sky darkens, spreading a blanket of stillness. Everything stops, except the sound of current, which has just sunk the tiny flames of cupped leaves, few minutes back. After experiencing above we trace ours steps back to the hotel. After sightseeing go back to the Hotel. Dinner & Overnight stay will be Hotel at Rishikesh

Dhanolti: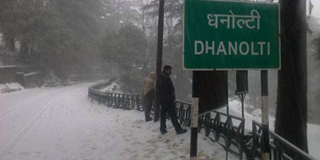 24 Kms from Mussoorie, Dhanolti provides a breath-taking view of the valleys and the Himalayan peaks. The long wooded slopes, lazy outings, cool caressing breeze, warm and hospitable inhabitants, lovely weather and fabulous view of of snow covered mountains makes it an ideal retreat for a relaxed holiday.

Chamba: One of the brightest spots of Tehri Garhwal, 1676 m, Chamba is just 60 km from Mussoorie. This quaint town offers one of the most sepectacular views of snow capped Himalayas and the enchanting Bhagirathi valley. Being the centre point of routes to Mussoorie, Rishikesh, Tehri and New Tehri, Chamba is fast changing into the ideal interlude. Chamba is well connected by motorable road to major cities and Towns of Garhwal division.

Surkanda Devi: Situated at an elevation of 3030 mts above sea level near village Kaddukhal the temple of Surkanda Devi is 33 kms from Kaddukhal and one has to trek about 2 kms. The temple of Surkanda Devi is situated on the top of the mountain and is of great religious significance. A fair is held every year on "Ganga Dussehra" during May-June in which thousands of people participate.

Overnight stay at Hotel in Rishikesh or 2nd Option overnight stay in Beach Camp in Rishikesh evening play beach ball, Water Fall Trek, dark campfire, BBQ, dinner and overnight stay will be camp near at Rishikesh.

Rishikesh The Getaway of Himalayas: Rishikesh is situated on the trisection of three districts of Garhwal Division and most of the city lies on the right bank of the river Ganga The place of sages is a celebrated spiritual town on the bank of Ganga And is surrounded by Shivalik range of the Himalayas on three sides it Is said that when raibhya Rishi did hard penances god appeared by the Name of Hrishikesh and this area henceforth came to be known as Rishikesh.

It is the starting point for the CHAR DHAM pilgrimage of the Hindus in Which pilgrimage goes to Yamunotri Gangotri Kedarnath and Badrinath to seek spiritual salvation on the way to the garhwal Himalayas and the Sikh shrine at Hemkund Sahib one passes Rishikesh.

For adventure visitors Rishikesh is the place for starting their trekking Expedition and excursions towards the Himalayas peaks 13 km Opsteam at Shivpuri is the site for River Running Rafting activities on The roaring white water of ganga from October to may the International yoga week which attracts participation from all across the World is held here every year from 2nd to 7th feb on the bank of ganga River.
Day 05: Rishikesh – Rudrapryag - Joshimath – Auli (244 Kms drive 8 Hrs)
After breakfast, drive to Auli Via Srinagar, Devprayag and Rudrapryag . Upon arrival proceed to your mountain resort by a rope trolley. Rest of the evening is at leisure for individual activities, night stay in Auli.
Day 06: Auli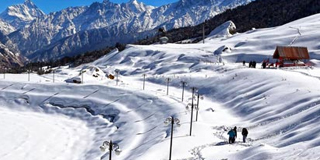 After breakfast, this day is at leisure to get mesmerized by the breath taking views of the western Himalayas. Overnight stay will be Auli at hotel.

Auli is one of the beautiful hill stations in India. Auli, located in the northern state of Uttar Pradesh. Located in the cradle of snow-capped mountains, Auli is one of the few places in India where skiing is a great pastime. Gradually Auli is growing like other hill stations in India. The cold wind, the vast snow-covered landscape, the sylvan mountains, all add up to make Auli a skier's paradise. The man who represents the continued commitment to the triumph over nature, Auli proves to be an ideal locale for the daring.

Skiers are naturally equipped with cleaning of the lines of 10-20 km of snow-covered mountain slopes. Moreover, there is a drop of 500 meters from the ridge on a stretch of 3 km. The forests on the slopes seem to help the skiers by reducing wind speed. In February and March, Auli often hosts the National Winter Games. In a draft motion, the government and local authorities have involved local people Garhwal to explore avenues for the right that belongs to them. Overnight stay will Auli at Hotel.
Day 07: Auli – Rishikesh – Devprayag – Haridwar
After breakfast, leave for Haridwar and on the way take lunch at Srinagar. Restart and if time permits visit Devprayag (the confluence of rivers Alaknanda and Bhagirathi to become Ganga). Reach at Haridwar and transfer to railway station train back to home.
---
| | | |
| --- | --- | --- |
| Daily Departure | Minimum 02 Members         | INR=   per person |
---
All our independent itineraries are completely flexible and can be customised to your requirements.
If you would like more information please feel free to contact us: bhagirathitour@hotmail.com OR call: 0091 – 9719016952